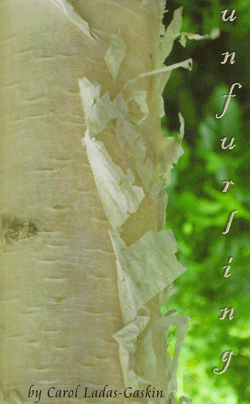 Unfurling
Poems by Carol Ladas-Gaskin
Salmon Song
My ancestors sang their bones
up this same dark river
skin flayed and scarlet
a banner of passion abandoned
on the river stones.
Bones of my ancestors carry me
threading a needle through time.
Flesh of my ancestors feeds me
a flame licking upstream.
Spirit of my ancestors carries me
a seed in the arms of the wind.
Carol Ladas-Gaskin
Carol Ladas-Gaskin, Hakomi certified therapist, teacher and trainer, is the author of Instant Stress Relief, co-author of Mindfulness Centered Therapies, an integrated approach and first place winner in Poetry in the Pacific Northwest Writers Association annual literary competition (2000). Her individual poems have been published in several anthologies as well.