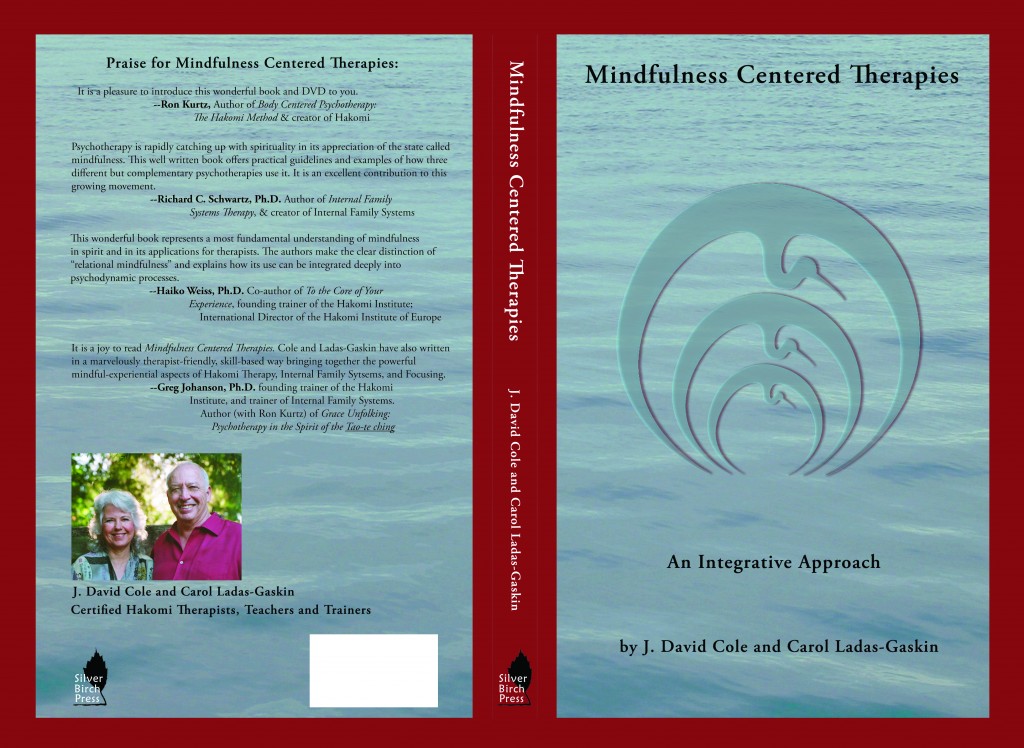 Mindfulness Centered Therapies: An Integrative Approach
Mindfulness Centered Therapies by David Cole and Carol Ladas-Gaskin is a practical guide and resource for therapists to use as they explore ways to integrate mindfulness into their counseling and psychotherapy practices. This well written book describes the core skills and concepts of the method called Mindfulness Centered Therapies (MCT). It is abundantly illustrated with transcripts taken from client/therapist dialogues. It also includes an extensive bibliography on mindfulness and psychotherapy as an aid to further exploration.
Mindfulness Centered Therapies (the DVD) is packaged with the book. It is a two hour training video that demonstrates seven of the most important mindfulness skills described in the book with video clips from real therapy sessions.
What Others Say
"It is a pleasure to introduce this wonderful book and DVD to you."
— Ron Kurtz, Author of Body Centered Psychotherapy:The Hakomi Method & creator of Hakomi
"Psychotherapy is rapidly catching up with spirituality in its appreciation of the state called mindfulness. This well written book offers practical guidelines and examples of how three different but complementary psychotherapies use it. It is an excellent contribution to this growing movement.
— Richard C. Schwartz, Ph.D., Author of Internal Family Systems Therapy, & creator of Internal Family Systems
"This wonderful book represents a most fundamental understanding of mindfulness in spirit and in its applications for therapists. The authors make the clear distinction of "relational mindfulness" and explain how its use can be integrated deeply into psychodynamic processes."
— Haiko Weiss, Ph.D., Co-editor of The Handbook of Body Psychotherapy, founding trainer of the Hakomi Institute; International Director of the Hakomi Institute of Europe
"It is a joy to read Mindfulness Centered Therapies. Cole and Ladas-Gaskin have written in a marvelously therapist-friendly, skill-based way bringing together the powerful mindful-experiential aspects of Hakomi Therapy, Internal Family Systems, and Focusing."
— Greg Johanson, M.Div., Ph.D., FAAIM, FAPA, LPC, founding trainer of the Hakomi Institute, and trainer of Internal Family Systems. Author (with Ron Kurtz) of Grace Unfolding: Psychotherapy in the Spirit of the Tao-te ching